Clay Natural Health
Kenai, AK 99611
907-598-0598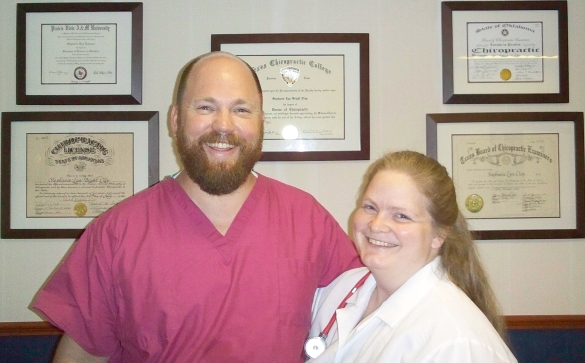 Holistically Treating the Whole You!
Dr. Stephanie L. Clay, DC, DABCI, DCBCN
Board Cerified Chiropractic Internist, Board Cerified Chiropractic Clinical Nutritionist, Injectable Nutrient Certified
Dr@TheClays.com
907.598.0598

J. Michael Clay, CMT
Massage Therapist
MT@TheClays.com
907.741.0202

---

What is a Chiropractic Internist?

The Chiropractic Internist must complete over three hundred hours of post-graduate education and training in the use and assessment of medical diagnostics (lab testing, EKG's, lung function studies, venous studies, etc, etc.) and the utilization of natural treatments.

Because of this training, the Chiropractic Internist is distinctively positioned to provide his or her patients with both sound medical assessment and the best in "alternative" treatments.

Our Mission Is To:

To save lives, to extend lives, to improve the quality of life, and to find the cause of the problem for our patients. We are committed to doing this with the most natural and least invasive procedures available. We firmly approach health from the stand point of a health triad: emotional, physical, and chemical. Thomas Edison embodied our philosophy when he stated: "The doctor of the future will give no medicine, but will interest his patients in the care of the human frame, in diet, and the cause and prevention of disease."

Come see us for your colds, flu, ear aches, sinus, diabetes, hormone imbalance, well woman check-ups, well man check-ups, childhood illnesses, arthridities, adjustments, massage, etc.

Clinical Nutrients from PhytoPharmica
Thyroid support products
Echinacea
Iodine
Probiotics
Bacterial and Viral Infection Fighters
Bile Emulsifiers
Essential Fatty Acids
Joint Support
Vitamins and Minerals
Botanical Male and Female hormones
And many more products...

In treating patients I have found a thorough understanding of my procedures by my patients is helpful in maintaining a good doctor-patient relationship. Before we meet personally, I want you to know that I have dedicated my professional life to health and well being. Everything that I do will be for your improved health and your freedom from pain and disability. I believe that every person I should have the privilege to serve deserves the very best natural health service that science has to offer. This is the type of care and attention you will receive. My efforts will be directed towards identifying the underlying cause of your symptoms and to prevent this present health problem from developing into a health crisis. Crisis treatment is not only expensive and disabling, it may terminate in fatality. The more knowledge I have about you as a patient, your medical history, symptoms, physical examination finding, and laboratory tests; the more likely I will be able to find the root cause of your trouble, and render proper treatment.

Financial Policy: Payment is due at the time of service.

Location: Kenai, AK 99611

For an appointment call 907-598-0598.

---
The URL of this page is http://www.ClayNaturalHealth.com
Designed by Michael Clay, a member of

CYBERSPACED, 2002-2013